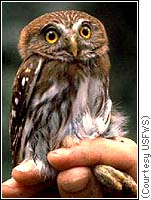 Cactus Ferruginous Pygmy Owl
When I was studying at
the Biosphere
in Arizona last year I was fortunate enough to have the opportunity to be trained by US Fish and Wildlife to survey for
Cactus Ferruginous Pygmy Owls
under the terms of the
Endangered Species Act
. There were two kinds of surveys - one was for scientific purposes, just to see how many owls there were in the area. The other was for developers who had to have field biologists go out and survey a property several times before they were allowed to develop in areas where conditions existed that are known to support pygmy owls. The surveys I participated in were all the second kind - developers are very anxious to build in Arizona, and don't at all appreciate little things like endangered species getting in the way of their strip malls.
So now even though the Cactus Ferruginous Pygmy Owl is one of the most imperiled birds in North America, according to the
Center for Biological Diversity
, the Bush administration wants to remove the owl from the endangered species list because the 9th circuit court of appeals said that its cousin, a different kind of pygmy owl from Mexico, is not in danger and that the US Fish and Wildlife Service did not do a good enough job demonstrating that the survival of the more specific group of pygmy owls was important. Luckily
the federal judge was not in agreement
and refused to agree to the removal.