After convincing the corporate types that we will actually pay our rent every month the apartment we had on an "unofficial hold" is now "officially held." Less than a month and we'll be signing a lease and picking up keys. It seems weird to me that they don't want us to sign something right away, but they say that we'll do all the legal stuff on August 1st, the day we arrive. I did ask them to send a letter that says something to the effect of: You won't be out on the street when you get here.
So this is where I'm going to tell details about the new apartment. So, get off here if square footage and amenity info bores you...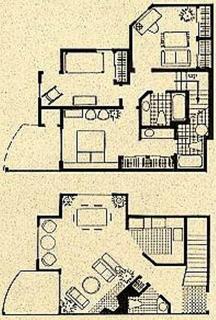 This is our floorplan. The total space is about 1250 sq. ft. - Much more space than what we've been living in for the past 3 years! The bedroom floor is the downstairs. We'll be using the two extra bedrooms as studies. J has insisted that I take first pick of study spaces, and I'm fairly certain that I'll be choosing the one that's set up like a TV room in the floorplan above. I like the non-square shape of it.
There are two decks, which is nice. Also a fireplace, and a washer and dryer in the kitchen area. We're super excited to not have to deal with quarters and neighbors' laundry schedules. Also, 2.5 bathrooms to decorate!
As for the complex, the best part is an on-site workout facility, pool, hot tub, sauna situation as well as free access to a real gym across the street. Initially we had wanted to end up in a house but these amenities are a decent trade-off.
So, that's the basic story of our new housing situation. We can't wait to get out there already!
Thanks go out once more to
Shelley
for looking at apartments for us and just generally being our Pacific Northwest connection.